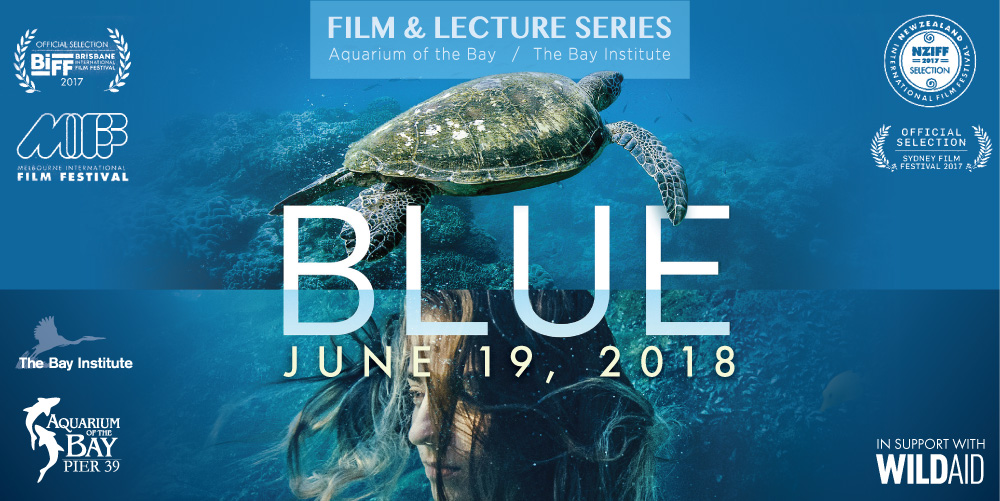 Film & Lecture Series – BLUE film screening
Celebrate World Oceans Day, June 8, at Aquarium of the Bay on PIER 39
In collaboration with WildAid, this Film and Lecture event will include a screening for the film, BLUE.
BLUE has been called one of the most significant environmental films of our time. It comes at a critical moment in our history when the state of our ocean has reached crisis point.
Filmed in Australia, Hawaii, Indonesia, the Philippines and the South West Pacific, BLUE communicates the importance of creating marine protected areas, supporting sustainable fishing, protection of marine life, tackling climate change and managing plastic pollution.

Moderator:
Ana Blanco (International Ocean Fim Festival, Executive Director)

Panelists:
Meaghan Brosnan (WildAid, Marine Program Director)
Sarah Beard (BLUE, Producer)
Sherry Lippiatt, Ph.D (NOAA Marine Debris Program/ IMSG Office of Response and Restoration, California Regional Coordinator)
Justin Brashares, Ph.D (UC Berkeley, Professor)

Event Details
$15 Ticket includes admission to Aquarium of the Bay, one free drink and lite fare.
5:00pm – Aquarium access
6:00pm – Reception
6:30pm – 8:30pm – Program

Purchase Tickets: