DIVING WITH AQUARIUM OF THE BAY
DIVING FOR CITIZEN SCIENCE
The Aquarium of the Bay has developed a diving course geared towards citizens with scuba certification who want to get more involved with ocean conservation. You can begin your academic learning at home immediately. The course will be led by NAUI Instructor, Doug Apple, Manager of Education and Outreach at Aquarium of the Bay with support from Chris Grace, PADI Master Scuba Diver Trainer and Aquarium of the Bay's Dive Safety Office. 
Dive Schedule:
July 29 & 30
September 30 & October 1
December 2 & 3
Divers will earn 2 NAUI Specialty Certifications: 
NAUI Underwater Naturalist (3 dives) 

NAUI Kelp Restoration Diver (2 dives) 

One fun dive led by a NAUI Dive Professional 
Students also receive training and knowledge from our team at Aquarium of the Bay about the interesting facts on the aquatic wildlife in the Bay Area. This will include the opportunity to do a single dive in our 370,000 gallon Nearshore Tunnel exhibit. This unique experience will provide you the opportunity to get up close to thousands of fish including giant sea bass, garibaldi, numerous rockfish and perch species to highlight a few. 
If you are interested in doing more diving at the Aquarium, consider joining our team of volunteer divers. This is a weekly opportunity to help care for the nearly 20,000 animals that call the Aquarium home. On SCUBA, assist with underwater maintenance of our aquarium exhibits, including vacuuming and scrubbing, preparing diets and performing broadcast and targeted feeds to a variety of animals. 
Package includes: 
NAUI Materials 

Seven total dives! 

Tank fills for Open Water Dives (6 tank fills) 

Instruction 

Certification Cards (2) 

A guided VIP Experience tour of the Aquarium before opening hours 

A dive in the Aquarium nearshore tunnel 
Cost: $800.00 
Does not include: 
Scuba gear, wetsuit or basic gear 

Transportation to Monterey Bay dive sites 

Meals and refreshments 
Sign up for the course today, as space is limited! 
Note: A CALIFORNIA SPORTSFISHING LICENSE IS REQUIRED FOR THE KELP RESTORATION DIVES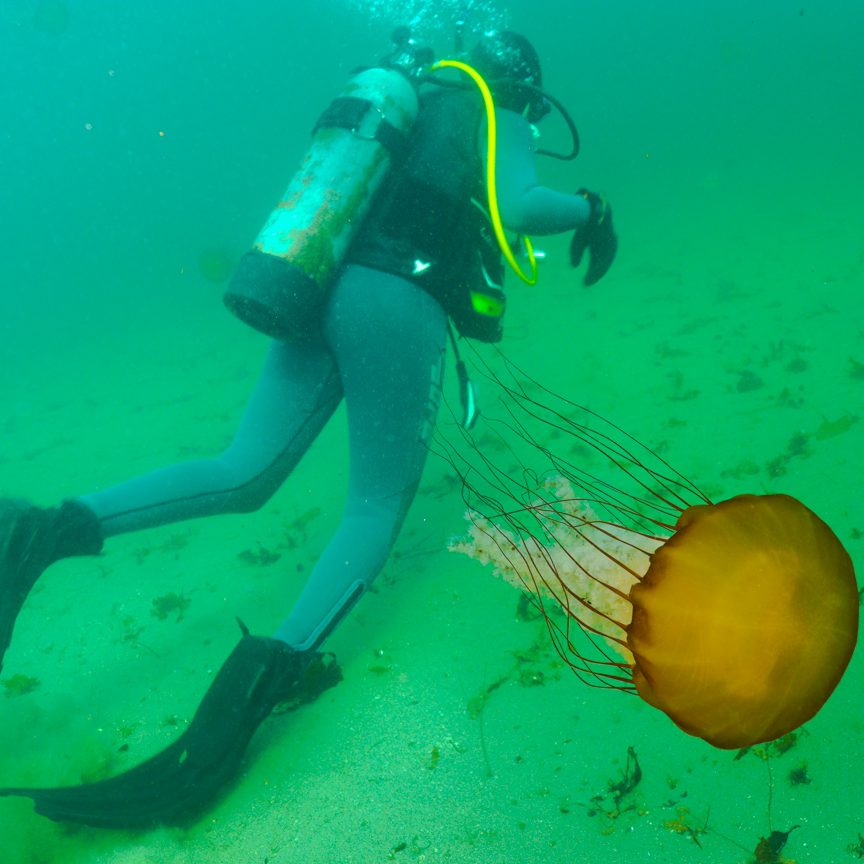 Interested in becoming a new diver or looking to find rental gear?
Bamboo Reef rents scuba and freediving equipment. Our rentals feature Aqua Lung, Mares, Sea Quest, Scuba Pro and Sherwood regulators, Aqua Lung and Sea Quest BCDs, Suunto dive computers and Aqualung and Fourth Element wetsuits. Please call to reserve your equipment today. San Francisco (415) 362 6694. Monterey (831) 372 1685.
DIVE VOLUNTEERING AT THE AQUARIUM
On SCUBA, volunteer divers assist with underwater maintenance of aquarium exhibits including vacuuming and scrubbing as well as feeding animals.
Email Chris Grace our Dive Safety Officer at [email protected]
EcoXpeditions
Enjoy diving one of our bucket-list destinations while giving back to marine and terrestrial conservation!
Email Angelina Preza, Director of EcoXpeditions at [email protected]