NEW friends join Aquarium of the Bay!
TALA, the North African Porcupine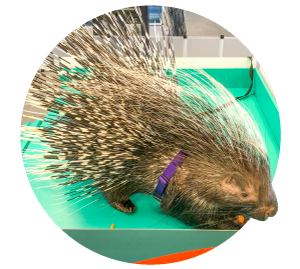 A prickly addition has joined the Aquarium of the Bay family and will be making her first public debut upon reopening.  Tala, a Cape porcupine, Hystrix africaeaustralis, was born at the San Diego Zoo Safari Park in February 2019. She was the runt of a litter of five, but her sassy personality quickly made up for being on the smaller side.  The San Diego Zoo Safari Park sought homes for several of the animals from this litter and we were excited to be one of the receiving institutions.  Tala is named after a wildlife preserve in South Africa, which is a native habitat for this species.  At the Aquarium she will be making appearances as an animal ambassador to highlight the effects of habitat loss, wildfires and other critical environmental concerns that affect not only Cape porcupines, but all animals including her local counterpart the North American porcupine.
Tala is such a unique animal not only in appearance but also personality.  She wears her emotions on her sleeve.  If she doesn't like something you've asked her to do or given her to eat, she'll stomp her foot and rattle her quills.  She enjoys digging in dirt and other substrate bins – especially if we hide peanuts in it – going on walks around the aquarium and laying under her heat lamp.  Along with peanuts, she enjoys yams, carrots and fruits the most.
WOOLSEY, the California Ground Squirrel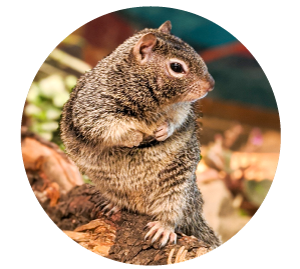 Woolsey is a California ground squirrel, Otospermophilus beecheyi, that was rescued at just a few days old during the California wildfires in 2018, she is named after the fire in the area she was rescued from.  She was hand-reared by a wildlife rehab specialist and the brought to the Lindsay Wildlife Experience where she was deemed non-releasable as she is fully imprinted on humans and was in need permanent housing.  The Aquarium is honored to provide her a forever home where she is an energetic animal ambassador teaching our guests about the devastating costs of wildfires on wildlife and their habitats.
Every day, our staff provide changes to her exhibit in various ways, from changing the substrate material, to rearranging the objects within the exhibit, adding in new potted plants among other things.  When she comes down to her night house after her time on exhibit, all of the items she encounters down their will have been changed as well – including many fun things that don't look 'natural' such as blankets, plastic toys, boxes and tubes, food toys and food puzzles.  She also goes out on strolls through the aquarium before we open to the public and can be found perched on a biologist's shoulder while they work.
Woolsey participates in a training program where she is learning to go in and out of her carrier, target at a particular location and hold at that spot for a period of time.  This training allows her to actively participate in her own care while reducing any stress she may have encountered otherwise.  She is an adorable bundle of energy that tries her best to look the part and beg for extra treats from unwitting biologists.  Her favorite food items include walnuts, sunflower seeds and fresh berries.  You can observe her high-energy acrobatics in the Bay Lab, where you will find her exploring all the interesting items in her exhibit, chirping and working constantly to build the perfect nest for a nice nap.
BAT RAY PUPS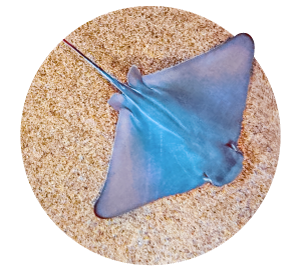 In the early hours of Saturday morning, May 30th, while the city slept, and the fog rolled under the Golden Gate Bridge a special surprise was being delivered in our Sharks of Alcatraz Exhibit. Our biologists were thrilled to find 3 neonate Bat Ray pups, Myliobatis californica, when they arrived Saturday morning. Two male and one female Bat Rays were carefully removed from the 350,000 gallon salt-water exhibit and placed behind the scenes for close observation.
When born they weighed about a pound and had a wingspan of under a foot. An adult female will tip the scales at well over 100 pounds and can have a wingspan of over 5 feet.  Males are much smaller typically less than half the size of a female.  The San Francisco Bay provides a key habitat for Bat Rays, they use the South Bay as a nursery ground where they give birth.  It is an ideal location for these adorable pups to find food and grow before heading out to deeper waters.
It was a great boost to the Animal Care team's spirits during these trying times to have this surprise addition.  Their hard work, expertise, and dedication to care for the animals that call the Aquarium home, provided the ideal conditions to promote breeding and the successful birth of these adorable pups. The pups will remain behind the scenes for observation by our biologists and veterinarian for the time being, but we cannot wait to share them with our members and guests.