"From the Sierra to the Sea" Updated for 20th Anniversary
In 1998, the Bay Institute published the first (and only) ecological history of the entire Bay estuary and its watershed, From the Sierra to the Sea. This landmark report documented in detail the nature of the estuarine system that existed before European colonization, and how massive changes in land use and water development transformed that ecosystem over the last century and a half.  To mark its 20th anniversary, the Bay Institute has re-issued the report, in both digital and hardbound print versions, with a new foreword by noted environmental journalist and poet John Hart and a new afterword by Bay Institute scientists (including Peter Vorster, co-author of the original report – see accompanying article) that summarizes important developments since the report was first published. You can also read more about the report in the December issue of Estuary News.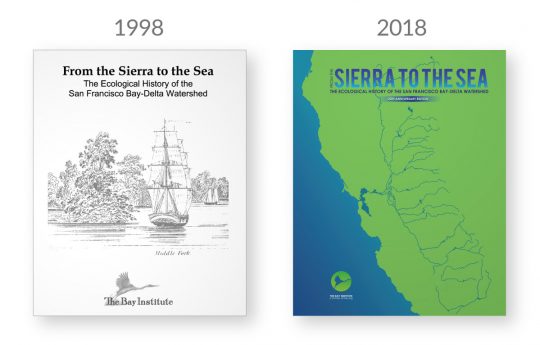 New text and figures in the 20th anniversary edition illustrate changes in:
Actual Bay inflow versus unimpaired runoff from the watershed (i.e., the amount of water that would occur if there were no diversions), showing that dry conditions that occur naturally only 20% of the time are now experienced 70% of the time due to high levels of diversion.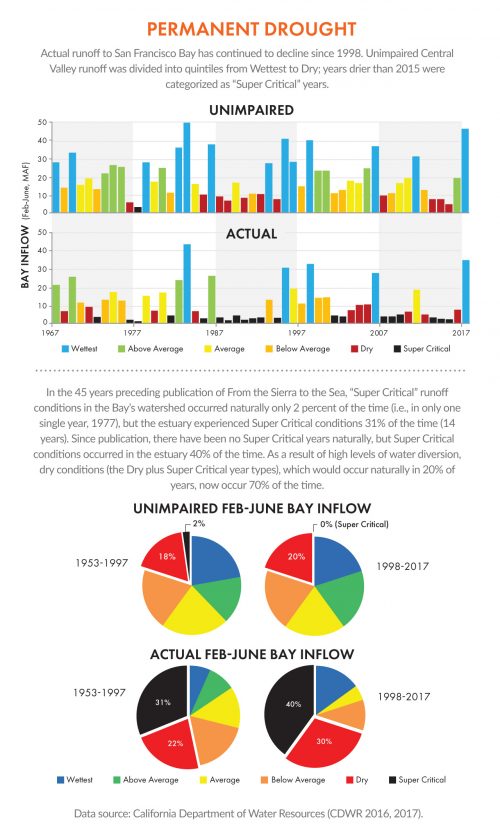 Central Valley net water use, showing how increasing, and increasingly inflexible, water diversion levels are reducing Bay inflow to less than 50% of unimpaired flows on average.
Actual Bay salinity versus estimated unimpaired salinity, showing how reduced Bay inflow has shifted the salinity field, decreasing the amount of brackish and freshwater habitat available for native species.
Frequency and magnitude of reverse flows in the Delta from export pumping operations, showing how large (>10,000 cubic feet per second) reverse flows now occur on average for more than three weeks in the summer each year, facilitating toxic algal blooms and reducing ecosystem productivity.
Extent of permanent crop acreage in the Central Valley, showing the explosive growth – even during the recent drought – of tree crops requiring a large and reliable water supply, especially in the San Joaquin Valley.
Abundance indices for representative native fish species, showing the collapse of many estuarine fish populations and the listing of additional fish and marine mammal species as endangered species at risk of extinction.
Abundance of non-native species in the Delta, showing that exotic plants and animals are successfully invading the estuary but not necessarily displacing native species.
Snowmelt contribution to actual runoff, showing how more precipitation is either falling as rain or is melting earlier in the year, affecting temperatures and runoff patterns for native fish species.
Rising sea levels and their potential impact on habitat extent, showing how the changing climate will work in combination with reduced sediment inflows to shrink available habitat in the Bay for birds and other native fish and wildlife, unless that habitat is aggressively restored and expanded.

TThe Bay Institute is the science, research, policy, and advocacy arm of the Bay Ecotarium, an umbrella organization dedicated to protecting, restoring and inspiring conservation of San Francisco Bay and its watershed. The Bay Institute's expert scientists and policy analysts work to secure stronger protections for endangered species, water quality, and aquatic habitats; reform how California manages its water resources; and design and promote comprehensive ecological restoration projects and programs, to ensure the health of the greater San Francisco Bay.